Halland Welcomes World's First Methanol-Powered Container Ship
Laura Maersk is a container vessel stretching over 172 meters in length and 32 meters in width, what sets this ship apart is its fuel versatility, as its main engine can run on both methanol and diesel.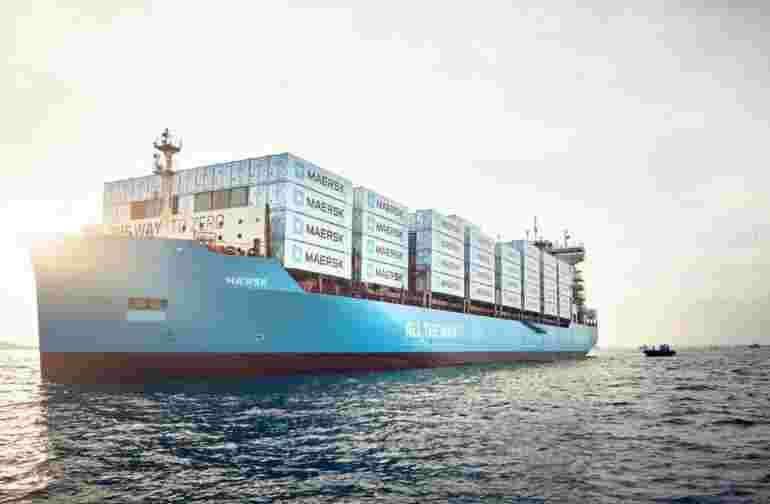 It's a historic day for Port of Halland as Maersk's innovative container vessel, Laura Maersk, arrives in Halmstad, Halland. The ship, powered by green methanol, operates along the route Bremerhaven – Helsingborg – Halmstad – Fredericia – Kalundborg.
Sustainable Partnership
This partnership not only provides a unique opportunity for the region's businesses to embrace a sustainable and efficient logistics solution but also represents a significant milestone for Port of Halland and the region's overall sustainability efforts.
Green Ambitions
"A.P. Møller – Maersk aims to reach net-zero greenhouse gas emissions by 2040, and we are pleased to collaborate with Port of Halland in Halmstad. Our partners help us achieve our ambitious green goals, offering our customers a door-to-door service that aids them in reducing their environmental impact along their value chains. Solving this task cannot be done alone, and we need strong partners for the maritime industry's green transformation to succeed on time", says Birna Odefors, Nordic Managing Director at A.P. Møller – Mærsk.
Investing in Sustainability
To continue promoting eco-friendly maritime transport through its docks, Port of Halland has made substantial investments in its machinery and vehicle fleets, along with railway-related infrastructure projects taking place in and around the port. It's important to note that all trucks and cranes at the port are currently powered by eco-friendly fuel, HVO.
"Sustainability is at the heart of our strategy," says Henrik Nanfeldt, Production Manager at Port of Halland. Welcoming Maersk and their methanol-powered vessels aligns perfectly with our sustainability efforts. It also shows that the maritime industry's transition is gaining momentum and places demands on us at the port to actively reduce our carbon footprint and meet our customers' needs for sustainable logistics solutions. At HallandsHamnar, we do this, for instance, by investing in electrifying our machinery and vehicle fleet and by utilizing solar energy at our facilities.
Fact: Sustainability initiatives at Port of Halland
For their container operations in Halmstad, Port of Halland has invested in a hybrid-powered crane.
Since 2022, all trucks and cranes run on eco-friendly fuel, HVO, which has reduced the port's carbon emissions by 80 percent.
To facilitate the upcoming transition to a completely electric vehicle and machinery fleet, new charging infrastructure is being developed at the port.
A significant effort is being made to promote environmentally friendly port operations with a focus on electric machinery. The goal is for 50 percent of the vehicle and machinery fleet to be electric by 2030.
Port of Halland is increasing its self-produced solar energy, a project that will expand in alignment with other investments.
Fact: Laura Maersk
Laura Maersk is a container vessel stretching over 172 meters in length and 32 meters in width. Its gross tonnage is 25,750 GRT.
What sets this ship apart is its fuel versatility, as its main engine can run on both methanol and diesel.
Laura Maersk has a total capacity of 2100 TEU.
SEK 700 million for strengthened port logistics in Halmstad, Halland.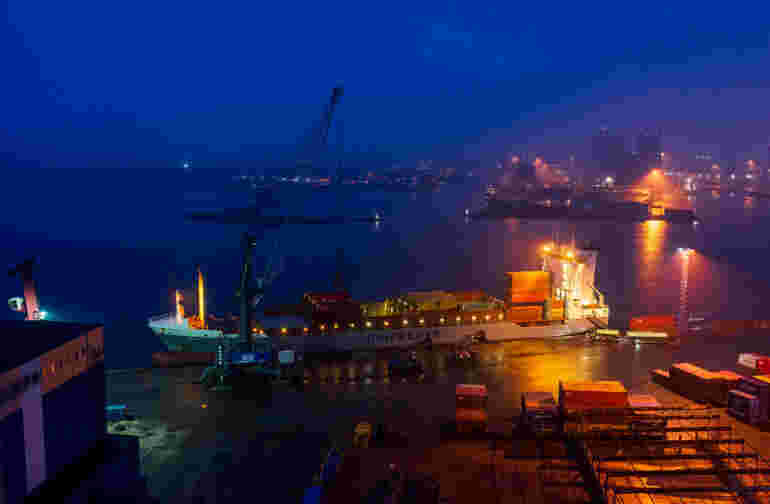 There will be a massive investment in logistics in Halmstad in the next few years. This is clear since Halmstad municipality this week published its budget to develop and strengthen the infrastructure in and around the port. A total of SEK 700 million is to be invested over the next five years. The investment includes stage two of the Southern entrance, an expansion of Oceanhamnen and the establishment of new railway tracks.
"Now we are stretching the bow and making a real investment in infrastructure and logistics in Halmstad. Halmstad is a strongly growing logistics hub and with the investment we will create very good conditions for efficient transport to and from the port", says Stefan Pålsson, chairman of the municipal board.
"This is the result of long-term strategic work and it is positive that we can now get started with the projects. Demand for intermodal logistics solutions in Halmstad is extremely strong and with the establishment of new railway infrastructure in the port area, we have good conditions for increased capacity and growth within the railway segment", says Björn Alvengrip, CEO of HallandsHamnar AB.
Greater depth and new areas
In Oceanhamnen, a new dock of 200 meters and a new area for cargo handling of 21,000 square meters will be established. Export volumes from Stena Recycling are being moved out to the new dock where the port gets an increased depth of 12 metres. When the port can receive more deep-draft ships, there is potential to increase capacity in this segment by around 40 percent and at the same time open up for new logistics flows. Construction will start in early 2023 and is expected to be completed in the spring of 2024.
Sustainability and local environment in focus
The dock in Oceanhamnen will be weatherproofed and the surfaces will be raised to three meters above sea level to withstand climate change. The new port area is being prepared with modern technology to enable electric machines and vehicles and so-called smart sensors. At several locations within the harbor area, these sensors are placed to collect data regarding environmental factors such as weather and water depth changes. Within the area, a high-voltage network is being established to meet future capacity needs and the possibility of upgrading the power outlet if necessary.
"When we move the cargo handling out of an older port area, we also enable urban development in the old port area and reduce the risk of noise and dust from the cargo handling", says Björn Alvengrip.
Visit Port of Halland for more information.