Göinge By: Swedens largest climate neutral residential area built in wood.
Concept visualization by Derome.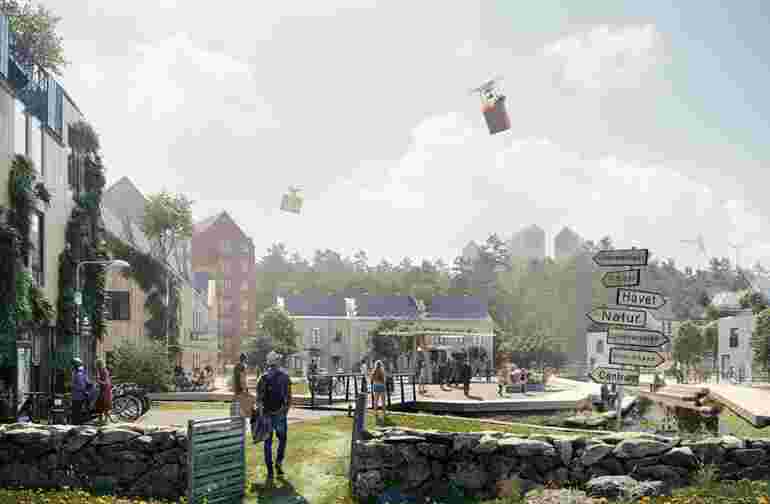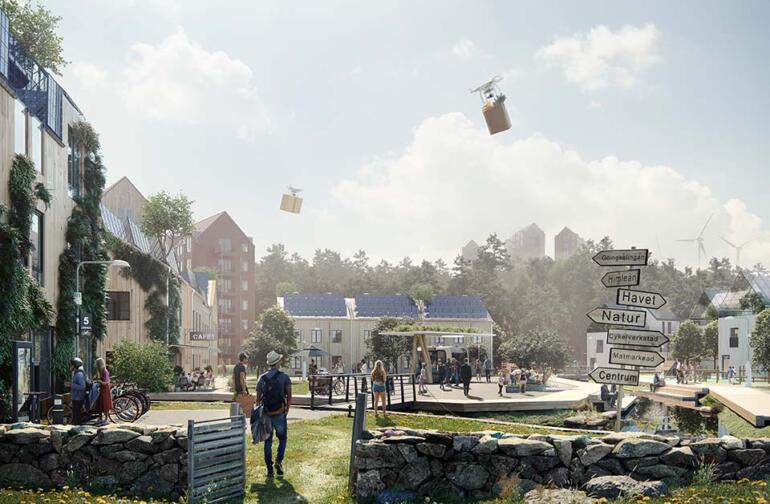 Imagine a village made from only wooden homes. And climate-neutral as well! It's on its way in Göinge By, just outside Varberg in Halland. 
If harvested from sustainably managed forests, wood is probably the most environmentally friendly, widely available building material there is. It is not only renewable but compared to concrete or steel it has a much smaller carbon footprint, especially considering that trees absorb carbon dioxide during photosynthesis.
With this in mind, the Derome Group – one of Sweden's biggest family-owned wood industries – are planning to build the country's largest climate-neutral and entirely wooden residential district, named Göinge By, on the outskirts of the city of Varberg in Halland.
Car sharing pools & solar power
Their vision is a community characterized by sharing and caring, that accommodates a truly sustainable, yet convenient lifestyle. To accomplish this, Derome is collaborating with Varberg municipality and other key players on a comprehensive plan – involving everything from coordination of car sharing pools to the facilitating of solar powered streetlights and smart bins.
In addition to innovative Greentech solutions, social sustainability is also an important part of Derome's vision. The residential area has therefore been designed to cater to a heterogenous population, incorporating a mix of rental homes, condominiums and detached houses, intermingled with natural green areas where residents can meet.
900 households in wooden homes
Construction is scheduled to begin in 2023 or 2024 and once finished, Göinge By will offer true sustainable living to a total of 900 households – in smart, comfortable and entirely wooden homes.
Want to talk investment possibilities in Halland? Contact us here.